5 min ago
Members of Congress request investigation of tours that took place 1 day before attack on Capitol
From CNN's Ryan Nobles and Annie Grayer
One day after Rep. Mikie Sherrill, a Democrat from New Jersey, alleged that members of Congress led tours of rioters on a reconnaissance mission the day before the attack on the Capitol, 31 members of Congress sent a letter to the acting House Sergeant of Arms, acting Senate Sergeant of Arms, and acting chief of the US Capitol Police asking them to investigate the matter further.
Democratic Rep. Mary Gay Scanlon, one of the co-signers of the letter, confirmed to CNN that she saw groups of tours of people in MAGA apparel one or two days before the attack.
"I had seen what appeared to be tour groups of folks dressed in MAGA attire, in the halls, in the tunnels" Scanlon told CNN. "I don't know exactly what day it was. It was just surprising to see that happen because since Covid the building's been shut down. There aren't supposed to be any tours. So I kind of assumed it must be a new member who didn't know the rules or something. But, I mean, I can verify that it happened. There were people who were roaming around in the halls, apparently under the guidance of congressional staff."
Scanlon told CNN she saw a group of six to eight people.
"Many of the Members who signed this letter, including those of us who have served in the military and are trained to recognize suspicious activity, as well as various members of our staff, witnessed an extremely high number of outside groups in the complex on Tuesday, Jan. 5," the letter stated.
It says the tours were "unusual" and "concerning" and were reported to the Sergeant at Arms on Jan. 5. The letter said the groups "could only have gained access to the Capitol complex from a member of Congress or a member of their staff."
7 min ago
Trump is "clueless what any of this means internationally or historically," senior adviser says
From CNN's Jim Acosta
President Trump has yet to grasp the magnitude of the damage being done to his standing in American history and the nation's place on the world stage resulting from his second impeachment and actions surrounding the Capitol siege, a senior Trump adviser said.
Based on conversations the adviser has had with Trump since Jan. 6, the adviser said the President is "clueless what any of this means internationally or historically."
Trump has told aides and advisers he does fear what the violence at the Capitol has done to his businesses.
"Yes, he is worried about the long-term brand," the adviser said.
The adviser said there is a real possibility that Trump could end up "broke" based on his accumulation of debt and the stain on the Trump brand.
That is something the President fears, the adviser added.
1 min ago
House majority leader channels GOP Rep. Cheney in making his final case for impeachment
From CNN's Josiah Ryan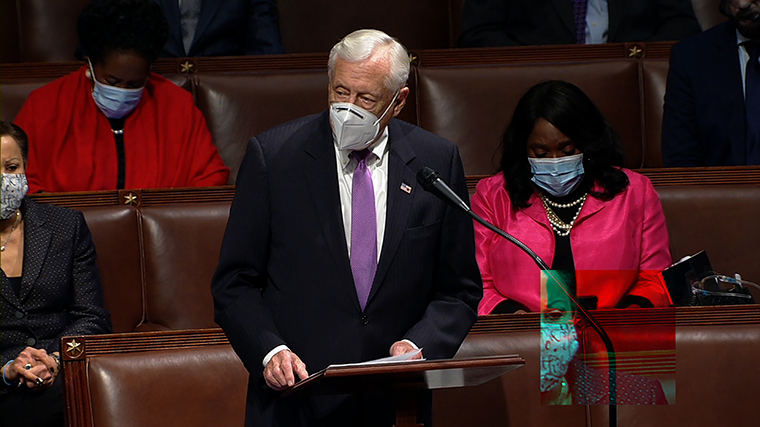 House TV
Making his closing argument, Democratic Majority Leader Rep. Steny Hoyer leaned on the words of the House's third ranking Republican, Rep. Liz Cheney, who is the only Republican in leadership to have called for impeachment of President Trump.
"This impeachment ought to be put in the perspective of what the Republican chair of the Republican conference said it was," said Hoyer, referring to Cheney.
"She said the President... summoned the mob, assembled the mob and lit the flame of that attack," he continued. "There has never been, she said, a greater betrayal by a President... of his office and his oath to the Constitution."
Hoyer went on to deliver a lengthy argument in favor of impeachment, returning multiple times to Cheney's condemnation of the President.
"This attack was not from abroad," said Hoyer, drawing a contrast to 9/11 attacks in which the Capitol was initially a target. "It was, as Liz Cheney said, summoned, assembled and inflamed by the President."
Cheney on Monday, told her colleagues the impeachment would be a "vote of conscience" opening the door for a number of other Republicans to also announced they would vote to impeach. Since then several House Republicans have called for her to step down from her leadership position.
Meanwhile, House Republican Whip Rep. Steve Scalise made his closing argument in opposition to impeachment on the House floor, speaking just before Hoyer.
Scalise, himself the victim of political violence in the 2017 Congressional baseball shooting, cited his experience but said lawmakers must seize this opportunity to cool the national political climate.
"Our nation still mourns the unacceptable violence and anarchy that took place in this Capitol last week," he said. "Emotions are still high, but in this moment we need to be focused on toning down the rhetoric and helping heal this nation as we move towards a peaceful transition of power to President-Elect Joe Biden next week."
"I've seen the dark evil of political violence firsthand and it needs to stop," he said. "...I oppose this rushed impeachment brought forward without a single hearing."
17 min ago
Happening now: House votes on historic second Trump impeachment
From CNN's Jeremy Herb, Manu Raju, Lauren Fox and Phil Mattingly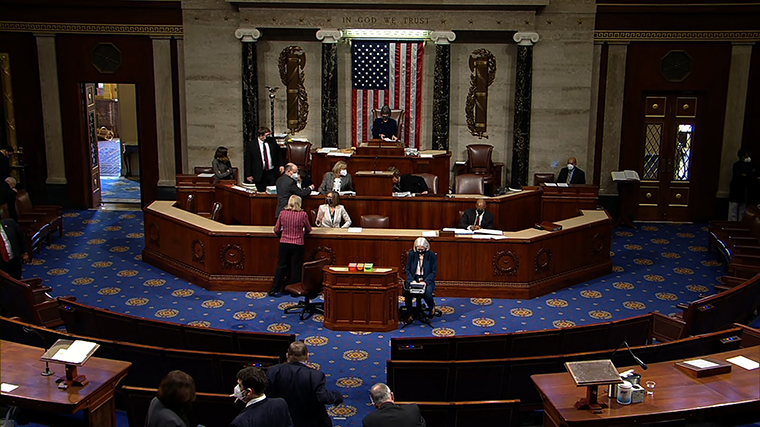 House TV
The debate has ended, and the House is voting now on an impeachment resolution that would make Trump the first President in United States history to be impeached for a second time for his role in last week's Capitol attack.
Voting is expected to take between 60 to 90 minutes to complete.
The impeachment resolution charges Trump with a a single article, "incitement of insurrection."
The resolution is expected to pass with a swift and bipartisan vote. So far, at least seven Republicans said they will vote for impeachment:
Rep. Dan Newhouse of WashingtonRep. John Katko of New YorkRep. Jamie Herrera Beutler of WashingtonRep. Adam Kinzinger of IllinoisRep. Fred Upton of MichiganRep. Liz Cheney of WyomingRep. Peter Meijer of Michigan
21 min ago
7 Republicans say they'll vote for impeachment
From CNN's Daniella Diaz
GOP Rep. Peter Meijer tweeted that he plans to vote to impeach President Trump, becoming the seventh Republican to publicly support impeachment.
"President Trump betrayed his oath of office by seeking to undermine our constitutional process, and he bears responsibility for inciting the insurrection we suffered last week. With a heavy heart, I will vote to impeach President Donald J. Trump," Meijer tweeted.
See his full statement:
21 min ago
House Democrat says Nancy Pelosi and Chuck Schumer will determine Senate trial timing
From CNN's Kristin Wilson
When asked about when the House would send the article of impeachment over to Senate, House Majority Leader Steny Hoyer said:
"The Speaker is talking to Mr. Schumer and will determine that but I am personally urging them to send it over as soon as possible," he said.
47 min ago
Trump's conduct impeachable but letters of impeachment are flawed, GOP lawmaker says
From CNN's Josiah Ryan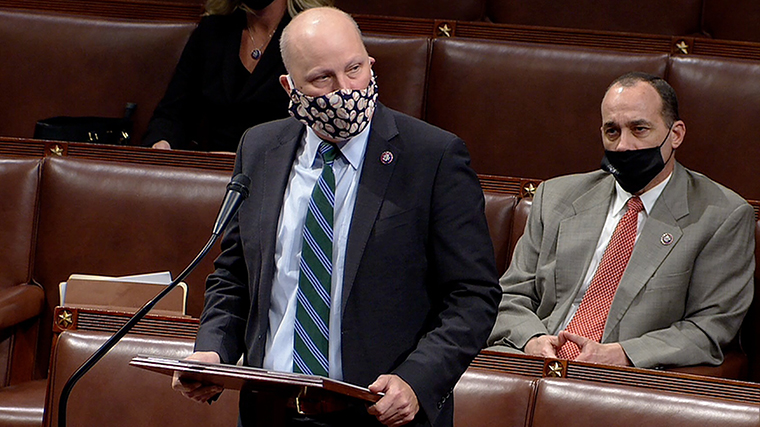 House TV
Texas Republican Rep. Chip Roy today condemned President Trump's conduct as impeachable, but urged lawmakers to reject the article of impeachment drafted by Democratic leadership saying they posed a danger to free speech for lawmakers and Americans.
"The President of the United States deserves universal condemnation for what was clearly, in my opinion, impeachable conduct," said Roy, speaking from the House floor. "...It was foreseeable and reckless to serve a false belief leading to violence and rioting loyal supporters whipped into a frenzy."
But Roy then went on to urge his colleagues to reject the article of impeachment under consideration, saying they are "flawed and unsupportable" because impeaching Trump over his rhetoric could pose a danger to free speech for lawmakers.
"If the House approves the articles as written, the language will be used to target members of this body under Section 3 of the 14th Amendment, it will used to suggest any statements we make will be subject to review by our colleagues and send us down the perilous path of cleansing political speech in the public square," said Roy.
"We must end tearing apart our nation by social media and soundbites," he concluded. "Let us stop. Let us debate. Let us sit down and lead this nation together."
Watch the moment:
54 min ago
McConnell says he has "not made a final decision" on how he will vote on impeachment
From CNN's Manu Raju
Senate Majority Leader Mitch McConnell sent a note to his Republican colleagues this afternoon on impeachment, writing "while the press has been full of speculation, I have not made a final decision on how I will vote and I intend to listen to the legal arguments when they are presented to the Senate."
Earlier, McConnell rejected calls by Democrats to bring the Senate back immediately to convict President Trump in his final days in office.
McConnell's office made that clear to Senate Democratic leader Chuck Schumer's aides on Wednesday, according to Republican officials.
55 min ago
Trump bears some responsibility for Capitol riot, former acting Homeland Security chief says
From CNN's Geneva Sands
Chad Wolf, who resigned as Homeland Security acting secretary two days ago, said Wednesday that President Trump bears some responsibility for the events at the US Capitol last week.
"He's the President. What he says matters," Wolf told CNN. "People listen to him — particularly supporters of his, I would say, really listen to him — so there is responsibility there."
However, it is for Congress to determine if it was an impeachable offense, Wolf said. He told CNN there is also personal responsibility for the rioters who entered the Capitol.
Some context: Wolf stepped down as acting secretary on Monday after a government watchdog and federal judges cast doubt on his legitimacy to lead the department, including in a court ruling last Friday blocking Trump administration asylum limits.
He served in an acting capacity for 14 months in the top role, a position that now will be filled by Federal Emergency Management Agency Administrator Pete Gaynor for the remaining days of the Trump administration.
The day after the attack on the Capitol, Wolf urged Trump and all other elected officials to condemn the violence in a sharply worded statement, while vowing to stay in his position until President-elect Joe Biden takes office.
"I was disappointed that the President didn't speak out sooner on that. I think he had a role to do that. I think, unfortunately, the administration lost a little bit of the moral high ground on this issue by not coming out sooner on it," he said Wednesday of condemning the violence.
Wolf told CNN he would like to see more from the President in terms of calling for nonviolent protests.
"[I]f you're going to protest, you do that in a very nonviolent way. I'd like to have him speak, have him say that and just that," Wolf said. "And have that be the message that carries the day."