1 min ago
The House just voted to impeach President Trump. Here's what happens next.
From CNN's Zachary B. Wolf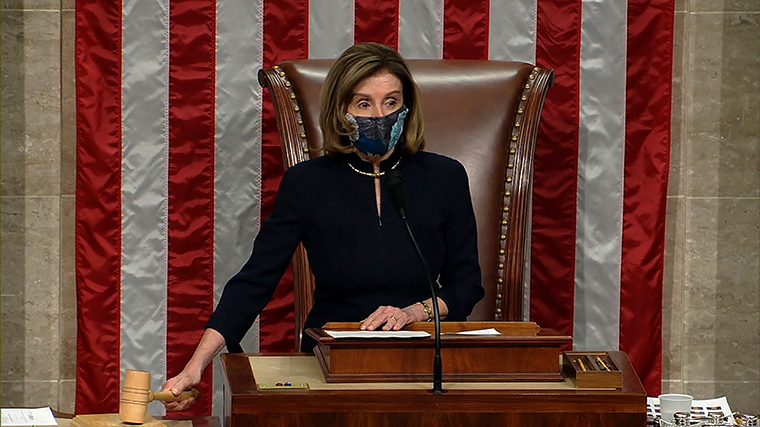 House TV
The House has just voted to impeach President Trump for the second time – making him the only US president to ever be impeached twice. The resolution passed 232 to 197.
The impeachment resolution the House voted on charges Trump with a single article, "incitement of insurrection" for his role in last week's deadly Capitol riot.
There is no such thing as a routine impeachment but this one is unprecedented in all sorts of ways.
The overall impeachment process laid out in the Constitution is relatively simple:
A president commits "high Crime or Misdemeanor" The House votes to impeach The Senate conducts a trial
This impeachment process will feel entirely new and different from the one we saw in late 2019 around the Ukraine investigation, most notably because the Senate trial is expected to occur after Trump leaves office.
Here's why that's important:
New President Joe Biden will be asking the Senate to vote on his Cabinet nominees and act on legislation to address the Covid pandemic as well as relief for Americans hurt by the troubled economy.
In 2020, Senate business ground to a complete halt during the trial. This time, incoming Senate Majority Leader Chuck Schumer is hoping to pursue a half-day schedule to conduct the trial part of the day and business the rest of the day.
The charges this time are much simpler to convey and understand, however. It should still take some number of days with Chief Justice John Roberts presiding and senators sitting in judgment. When both of the new Democratic senators from Georgia are seated, it will take 17 Republicans voting with Democrats to reach a two-thirds majority and convict Trump.
The swift effort to impeach him certainly puts Trump in the position of wanting to keep Republican senators on his side. In that regard, it would keep him in check during the last week of his presidency.
Remember: Impeaching Trump in the House does not remove him from office. Neither a second House impeachment nor even a Senate vote to convict Trump and remove him from office would prevent him from running again, in 2024 or beyond.
Rather, after two-thirds of senators present voted to remove Trump, a simple majority of senators present would have to approve an additional vote to bar him from the presidency in the future.
Barring him from further office could also cost him his more-than $200,000 per year pension if the Senate wants to take that way.
5 min ago
House reaches enough votes to impeach Trump
From CNN's Capitol Hill unit
House TV
Enough lawmakers have cast votes to impeach President Trump again in a historic first, with at least 217 members having now cast votes to impeach the President, including at least nine Republicans.
The impeachment resolution charges Trump with a single article, "incitement of insurrection," for his role in last week's deadly Capitol riot.
Voting is ongoing.
As soon as the gavel comes down, Trump will become the only President in history to be impeached twice.
See the moment:
12 min ago
Dana Bash: It's reprehensible that Republicans who propagated election fraud lies did not apologize
From CNN's Dana Bash / Written by CNN's Maureen Chowdhury
CNN's Dana Bash called out House Republicans who did not come out and admit that they were wrong for propagating false election fraud claims during the House impeachment debate.
"Those who did say that the election was stolen, those who propagated that, those who fed the lies of the President, 'I'm sorry, I made a mistake,' we heard that from nobody. And that's frankly reprehensible," CNN's Dana Bash said.
"Especially given the fact that they all know better," Bash added.
"I think they know the reality. I think that they know the truth. I think that, in their heart of hearts, understand that when the secretaries of states in swing states like Georgia or Pennsylvania or Arizona say 'This election wasn't stolen,' and it was free and fair and honest that, that actually is the truth," Bash continued.
Bash also highlighted how, aside from the backtracking from election fraud claims, Republicans didn't acknowledge the live footage from last week's attack which show rioters stating "the President told us to come here."
Watch Bash's full remarks:
16 min ago
GOP lawmaker who voted for impeachment: "I'm at real peace right now"
From CNN's Annie Grayer
Republican Rep. Adam Kinzinger, one of the Republicans who voted "yes" to impeach President Trump, told CNN he is at peace with his vote.
"I think this is one of those votes that that transcends any kind of political implication if the moment. This is one of those that you're going to look back on when you're 80 and this will be the one you talk about," Kinzinger said.
"I don't know what the future is, you know, I don't know what that means for me politically but I know I'm at real peace right now," he added.
Kinzinger said he didn't feel pressure from the party, but that his constituents were all over the place. Kinzinger said he didn't know how many of his Republican colleagues would be joining him to vote for impeaching Trump.
21 min ago
McConnell urges GOP senators to focus on transition of power, not impeachment
From CNN's Phil Mattingly
Senate Majority Leader Mitch McConnell is urging his colleagues to focus for the next seven days on the transition of power and the inauguration, not impeachment, according to a senator.
The letter came in an email earlier today as the House casts votes on impeachment.
Earlier on Wednesday, McConnell sent a note to Republicans, writing, "while the press has been full of speculation, I have not made a final decision on how I will vote and I intend to listen to the legal arguments when they are presented to the Senate."
McConnell has rejected calls by Democrats to bring the Senate back immediately to convict President Trump in his final days in office.
22 min ago
At least 9 Republicans will vote for impeachment
GOP Rep. Anthony Gonzalez said he plans to vote to impeach President Trump. There are now at least nine Republicans that publicly support impeachment.
The House is voting now on the impeachment resolution.
See Rep. Gonzalez's statement:
So far, at least nine Republicans have voted or said they will vote for impeachment:
Rep. Dan Newhouse of WashingtonRep. John Katko of New YorkRep. Jamie Herrera Beutler of WashingtonRep. Adam Kinzinger of IllinoisRep. Fred Upton of MichiganRep. Liz Cheney of WyomingRep. Peter Meijer of MichiganRep. Anthony Gonzalez of OhioRep. Tom Rice of South Carolina
31 min ago
Members of Congress request investigation of tours that took place 1 day before attack on Capitol
From CNN's Ryan Nobles and Annie Grayer
One day after Rep. Mikie Sherrill, a Democrat from New Jersey, alleged that members of Congress led tours of rioters on a reconnaissance mission the day before the attack on the Capitol, 31 members of Congress sent a letter to the acting House Sergeant of Arms, acting Senate Sergeant of Arms, and acting chief of the US Capitol Police asking them to investigate the matter further.
Democratic Rep. Mary Gay Scanlon, one of the co-signers of the letter, confirmed to CNN that she saw groups of tours of people in MAGA apparel one or two days before the attack.
"I had seen what appeared to be tour groups of folks dressed in MAGA attire, in the halls, in the tunnels" Scanlon told CNN. "I don't know exactly what day it was. It was just surprising to see that happen because since Covid the building's been shut down. There aren't supposed to be any tours. So I kind of assumed it must be a new member who didn't know the rules or something. But, I mean, I can verify that it happened. There were people who were roaming around in the halls, apparently under the guidance of congressional staff."
Scanlon told CNN she saw a group of six to eight people.
"Many of the Members who signed this letter, including those of us who have served in the military and are trained to recognize suspicious activity, as well as various members of our staff, witnessed an extremely high number of outside groups in the complex on Tuesday, Jan. 5," the letter stated.
It says the tours were "unusual" and "concerning" and were reported to the Sergeant at Arms on Jan. 5. The letter said the groups "could only have gained access to the Capitol complex from a member of Congress or a member of their staff."
33 min ago
Trump is "clueless what any of this means internationally or historically," senior adviser says
From CNN's Jim Acosta
President Trump has yet to grasp the magnitude of the damage being done to his standing in American history and the nation's place on the world stage resulting from his second impeachment and actions surrounding the Capitol siege, a senior Trump adviser said.
Based on conversations the adviser has had with Trump since Jan. 6, the adviser said the President is "clueless what any of this means internationally or historically."
Trump has told aides and advisers he does fear what the violence at the Capitol has done to his businesses.
"Yes, he is worried about the long-term brand," the adviser said.
The adviser said there is a real possibility that Trump could end up "broke" based on his accumulation of debt and the stain on the Trump brand.
That is something the President fears, the adviser added.
15 min ago
House majority leader channels GOP Rep. Cheney in making his final case for impeachment
From CNN's Josiah Ryan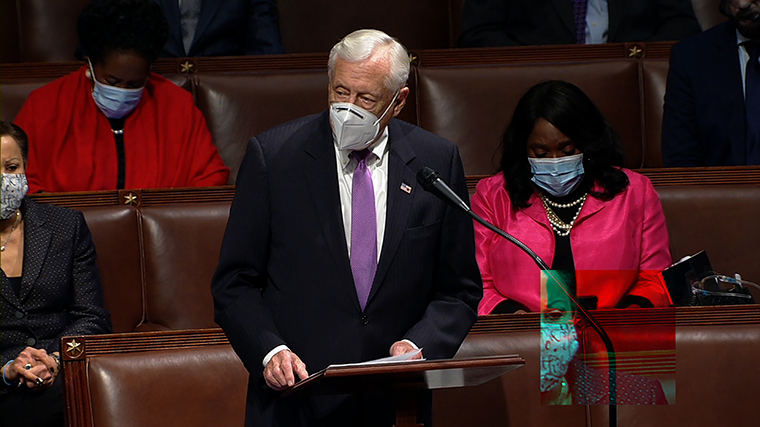 House TV
Making his closing argument, Democratic Majority Leader Rep. Steny Hoyer leaned on the words of the House's third ranking Republican, Rep. Liz Cheney, who is the only Republican in leadership to have called for impeachment of President Trump.
"This impeachment ought to be put in the perspective of what the Republican chair of the Republican conference said it was," said Hoyer, referring to Cheney.
"She said the President... summoned the mob, assembled the mob and lit the flame of that attack," he continued. "There has never been, she said, a greater betrayal by a President... of his office and his oath to the Constitution."
Hoyer went on to deliver a lengthy argument in favor of impeachment, returning multiple times to Cheney's condemnation of the President.
"This attack was not from abroad," said Hoyer, drawing a contrast to 9/11 attacks in which the Capitol was initially a target. "It was, as Liz Cheney said, summoned, assembled and inflamed by the President."
Cheney on Monday, told her colleagues the impeachment would be a "vote of conscience" opening the door for a number of other Republicans to also announced they would vote to impeach. Since then several House Republicans have called for her to step down from her leadership position.
Meanwhile, House Republican Whip Rep. Steve Scalise made his closing argument in opposition to impeachment on the House floor, speaking just before Hoyer.
Scalise, himself the victim of political violence in the 2017 Congressional baseball shooting, cited his experience but said lawmakers must seize this opportunity to cool the national political climate.
"Our nation still mourns the unacceptable violence and anarchy that took place in this Capitol last week," he said. "Emotions are still high, but in this moment we need to be focused on toning down the rhetoric and helping heal this nation as we move towards a peaceful transition of power to President-Elect Joe Biden next week."
"I've seen the dark evil of political violence firsthand and it needs to stop," he said. "...I oppose this rushed impeachment brought forward without a single hearing."
Watch more: